Discover more from Jerry Lu's Newsletter
exploring media's impact on business and culture
Bon Appétit's Recipe for Success in a Digital Media World
A Sweet Evolution from Traditional to Digital

I'm fascinated — both as an investor and as a consumer — by the innovative ways media businesses are connecting with their audiences.
And while no one would call me a chef, I've been extremely impressed by Bon Appétit, a food magazine that started pre-internet in the late 1950s. In a world where legacy publications have been struggling, Bon Appétit's content has remained relevant in today's transformed food culture, and it has diversified successfully to digital channels.
In fact, according to Conde Nast, its parent company, the magazine has become its "number one fastest-growing brand on social."
How has the venerable Bon Appétit been able to thrive in the ever-evolving media landscape and consumer market? I see three major strategies behind their success story, ones that traditional media businesses would do well to adopt.
Adaptation to digital

Humanization of the brand

Cultivation of fandom
Let's take a look at these strategies one at a time.
Adaptation to digital
When Bon Appétit first started, Dwight D. Eisenhower was president, Peter Pan had just premiered in theaters, and the magazine's readership skewed toward higher-income, middle-aged adults (median age 48). Sixty years later, recognizing the need to reach a wider audience, Bon Appétit looked toward digital channels to diversify their brand beyond print.
Bon Appétit decided to double down on video, specifically focusing on long-form, in-depth content instead of the "food porn" clips and top list formats that were standard with other food media brands. In fact, some of the most popular Bon Appétit videos average anywhere from 15 to 25 minutes in length. This strategy helped catapult Bon Appétit's YouTube subscriber base from 34,000 subscribers in 2016 to 3M in 2018 to close to 6M today.

The flexibility offered by longer videos enabled them to experiment with new styles, introducing more narratives and opportunities to get to know the personalities of the hosts. While similar to traditional television like the Food Network, digital platforms like YouTube gave Bon Appétit more creative freedom, with no obligation to meet any expectation of what food programming should be. Video was also an opportunity to reach audiences where they were (both literally and figuratively), introducing the iconic brand to a generation who didn't necessarily grow up learning how to cook from their parents, but were quick to Google their food questions.
Despite these longer videos, Bon Appétit's audience began to skew younger (median age 35) and watch videos for over 5 minutes on average. In a world where attention span is limited and the average watch time on Facebook is 10 seconds, Bon Appétit was onto something.
With the success of their YouTube channel, they began to experiment with other digital formats, including their website, Instagram, and a podcast. But no matter what the channel, the Bon Appétit brand stayed consistent and viewers were able to access all the original content they provided on all platforms. They were building new connections with new audiences with new content, and then funneling them back to other platforms, rather than relying on the brand equity of their legacy print publication to power all the content on the new platforms.
For example, whether you start on YouTube, Instagram, or the website, you can check out the recipe, subscribe to the magazine, or even purchase merchandise. All of these touchpoints supplement each other by providing content best suited for each medium, complementing each other like the ingredients in a complex Bon Appétit dish.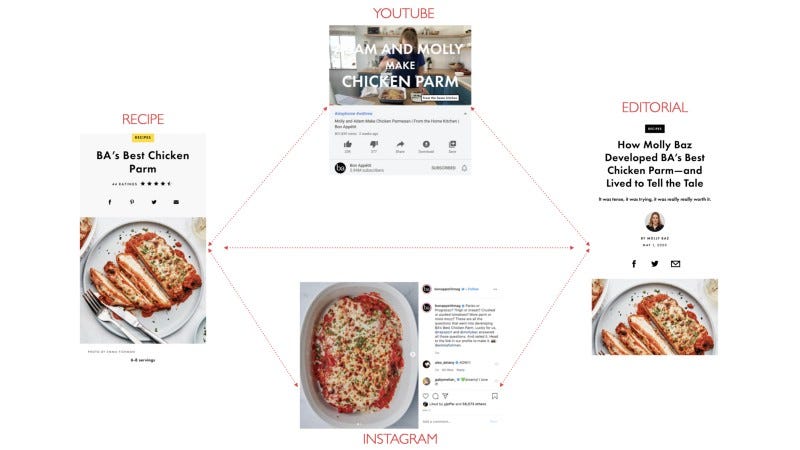 From a strategic standpoint, Bon Appétit's use of multiple media channels strengthens the brand, grows new audiences, and diversifies into other forms of advertising. Perhaps surprisingly, it also helped to drive subscriptions to its magazine: an impressive 64% increase in subscriptions generated from digitally native channels year over year. In August 2019, that number increased to 158% as the brand pushed subscriptions across its mix of digital platforms.
Today Bon Appétit is no longer seen as just a publication but as a much broader brand that includes a magazine, a brand in which other media properties such as the web, social media, and events are all on the same playing field as their flagship magazine.
Humanization of the brand
Bon Appétit's strategy to diversify across media channels certainly helped the brand to reach a broader audience. But what made that audience truly attach to the brand was the strength of their personalities, their test kitchen hosts.
Bon Appétit's videos feature a variety of hosts who are appealing and highly relatable, and have quickly become celebrities in their own right. Unlike the hosts of conventional cooking shows, these hosts are neither actors nor professional chefs: rather, they are home cooks, editors, and writers who are naturals in front of the camera. Similar to other online food channels, Bon Appetit's videos consist of traditional cooking how-to's, but unlike those channels, they were quick to double down on their unique strategy: having their hosts launch their own respective shows (i.e., individual web series within the broader channel). Whether it's Claire struggling to recreate a gourmet version of a household snack on "Gourmet Makes" or Brad Leone cracking jokes while cultivating fermented food on "It's Alive", each host brings their full-on personality into their shows. In contrast to the slick branding of the magazine and the rigid over-production of the typical cooking channel, these unpredictable, raw, extemporaneous shows add a welcome new dimension to round out the brand's appeal. 
And it worked. If you look at the history of their videos on YouTube (scrolling back to two years prior), you'll notice how much better their content performed when the original content was positioned around the host rather than the food—in some videos, from 55,000 views to up to 7M.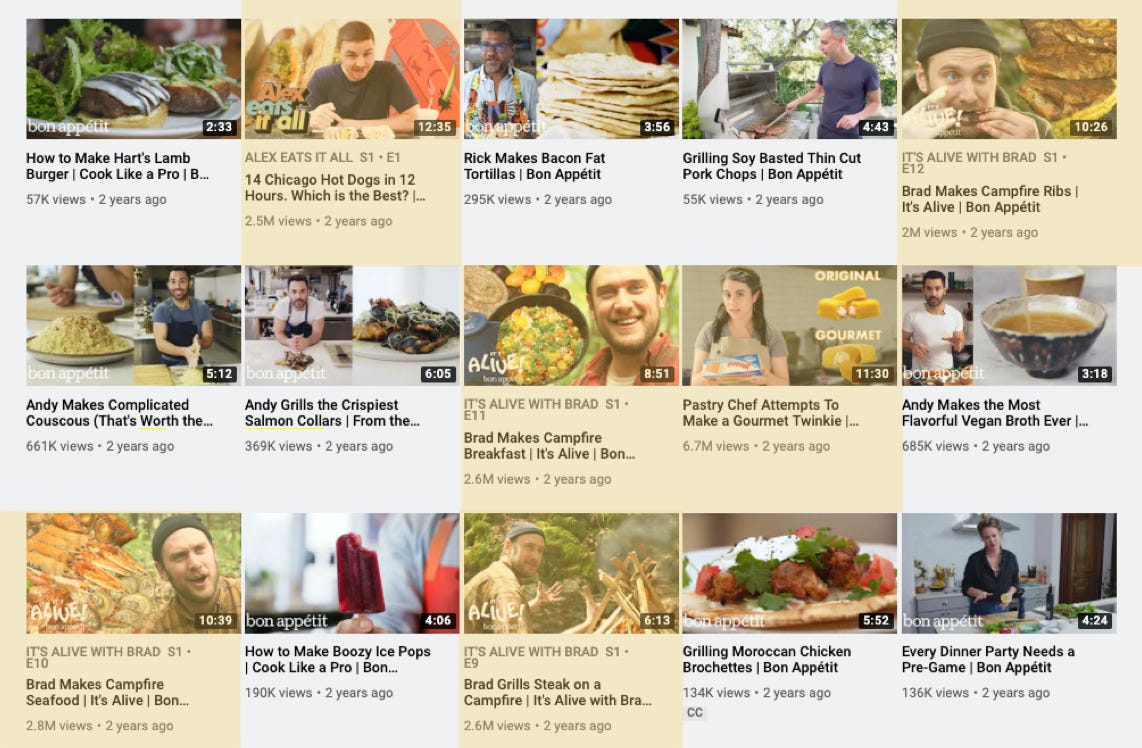 Bon Appétit was quick to realize that specific personalities and content types boosted viewership and they doubled down on what was working. In their 15 most recent uploads, for example, more than two-thirds are videos of their hosts and their respective shows vs traditional recipe videos, the complete opposite of the content mix only two years ago. This strategy helped build brand awareness, but it also contained a strategic bonus: each show can live independently as its own brand, and the shows can be extended and distributed across other digital platforms (back to strategy #1 of adapting to digital). We saw this with the launch of Bon Appétit's own OTT channel, which featured spin-offs of some of their personality-driven content.
Another genius innovation in the videos is the cameos of other show hosts, who pop in to cheer each other on and offer advice. This cross-pollination offers the potential of thousands of different combinations of shows, revealing newfound chemistry among hosts and broadening audience outreach, as you never know if the host you love will make an appearance in the episode you're watching.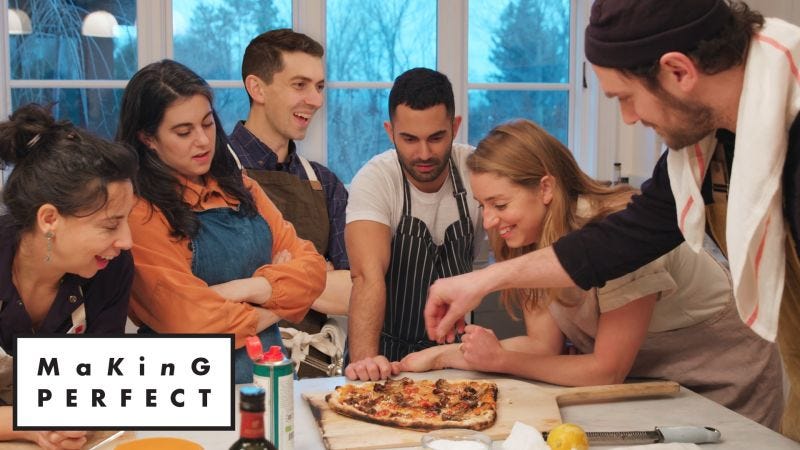 Successful channels on YouTube are typically personality and talent-driven, where the face of the channel is a single person. In some cases, faceless corporate brands like Wendy's and Burger King have unsuccessfully tried to behave like real people on Twitter and other channels, while the presence of the Communications Department behind the curtain is too often apparent. Bon Appétit, however, has navigated a very different approach: the face of the channel is a brand, while the hosts, real people in front of a camera connecting with each other and their audience, have humanized that brand and made it more relatable.
In fact, even during this quarantine, Bon Appétit's videos — shot in the hosts' home kitchens on their phones and directed by a remote production team — are still getting 1M+ views. I would argue that these measures haven't diminished the audience's engagement with their content because the hosts' honest, earnest personalities are even more visible in their home surroundings. Clearly the success of their videos is not so much about the finished product as the engaging personality and relatability of each host and their ability to bring the viewer along on their journey.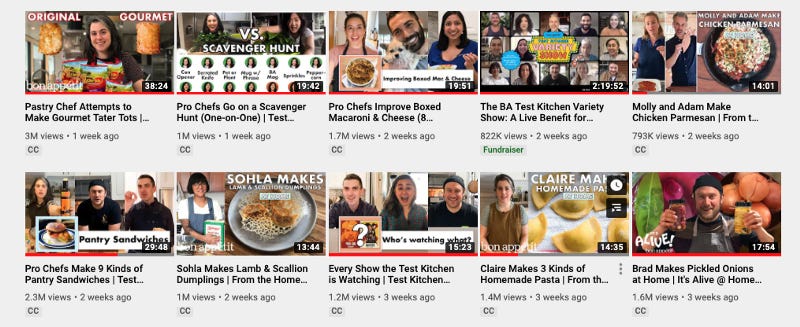 Another example is the partnership between Tillamook and Bon Appétit around Tillamook's YouTube channel. Just look at the before and after views: it's not about the brand so much as the personality of Brad Leone. By injecting the human components of inspiration and relatability into its content, Bon Appétit has done what the Food Network failed to do in the food world: it connects and engages with the audience on a level that extends beyond just food. These hosts have commanded so much fanfare and attention that at this point they can create content about anything and people will still watch.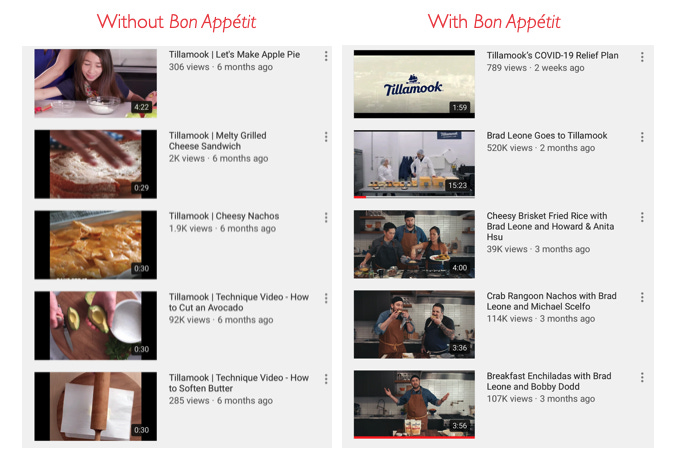 And watch they do: the Bon Appétit brand currently boasts 13.7M social followers, 122M video views, and 11M digital uniques across all their social platforms.
This brings us to the third strategy that has served Bon Appétit well in the digital landscape.
Cultivation of fandom

Bon Appétit's videos aren't just popular in viewership, there's a whole fandom that comes with it. The show has spawned various fan-generated product lines, including a podcast, fan fiction, tattoos, and even a Claire Saffitz action figure. And like icing on a cake, there's even an Instagram meme account dedicated solely to Bon Appétit (@meme_appetit) with over 400k followers and growing.

Bon Appétit's strategic response to this fandom has been to lean into its passionate community, having their hosts recognize and embrace the creativity of their fans' memes. They play into meme culture themselves, by memeing their own content via the post-production insertion of jokes in the form of captions and sound effects. Brad Leone's "It's Alive" series, my personal favorite, is littered with text graphics that poke fun at Brad's mispronunciations and quirky personality. In fact, one of my favorite stories about the genesis of "It's Alive" is that footage that had sat untouched for several months was
"quickly cut into a nine-minute video that was unlike anything the channel had published before, full of spills and swearing and fast cuts with irreverent commentary added via text overlay by graphics editor Matt Hunziker."
This editing style has become the underpinnings of the entire BA aesthetic — again, relatable, relevant, and not overly produced, while providing a fresh style of comic relief (basically a meme).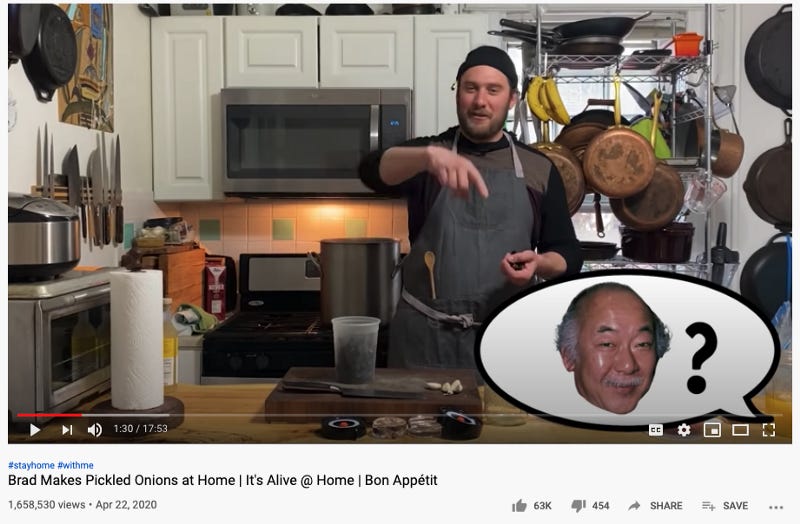 Garry Tan, a partner at Initialized Capital, has posited that the future of businesses will be built around memes, that "either you create a powerful meme that grows organically, powering free customer acquisition, or you are doomed to pay all your gross margin to Facebook and Google ads."
I couldn't agree more. When you build this type of bond with your audience, it creates a natural flywheel that turns viewers into fans, and fans into new customers.
In Bon Appétit's case, by acknowledging their viewers' fandom and incorporating them into their videos, it was able to forge bonds with its audience that ran deeper than their in-house content. This continued attention leads to further engagement and brand loyalty, to the point for which you can begin to monetize your brand.
As a brand, it's a grand position to be in when you have viewers looking for ways to give you money:

A graceful transformation
Bon Appétit is a brand that began as a foodie magazine but over time has transformed itself into a lifestyle brand that covers food through the lens of multiple perspectives. With a strategy based on the combination of digital adaptation, brand humanization, and fandom cultivation, Bon Appétit has moved food culture away from professional chefs toward home cooks, from recipe-driven to personality-forward, from niche to mainstream.
When asked to describe Bon Appétit, editor in chief Adam Rapoport said it best: "It's whatever you want it to be. Even a magazine."
Bon Appétit's understanding of the different platforms where it could produce and distribute content, their showcasing of the people behind the development and execution of recipes, their connection with their audience and devotion to their fans — all these factors have elevated Bon Appétit to be more than just a magazine, its individual test kitchen chefs, or its community. It has embraced the digital media market to create a multidimensional brand that is a marriage of them all.
---
Would love to hear what you think!
You can always find me @thejerrylu and jerry@advancitcap.com